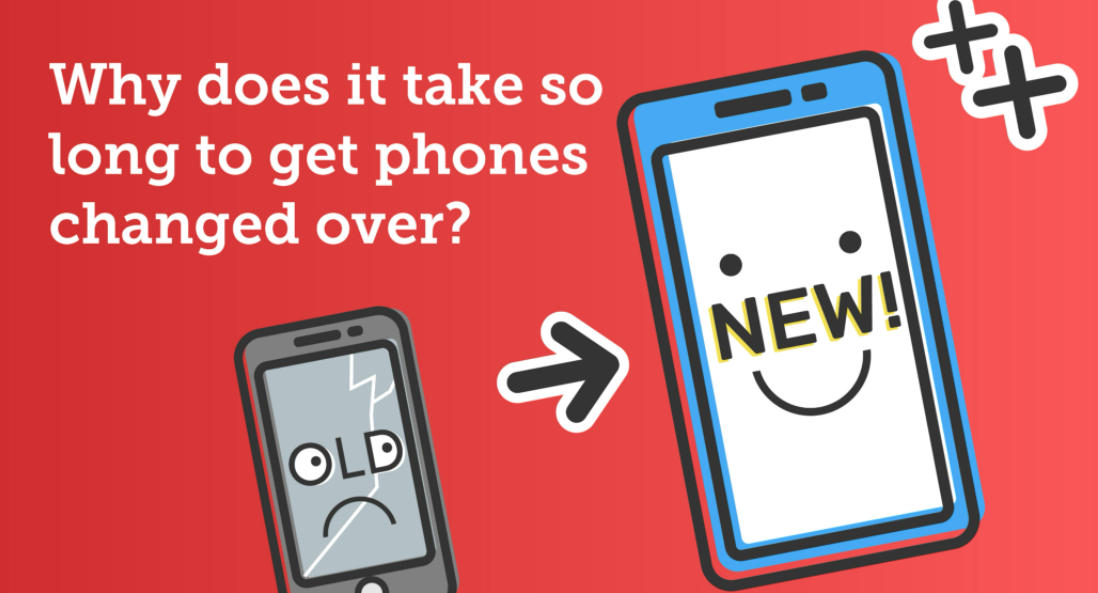 Getting a new phone can be very exciting - and at this point, most of us have either purchased a new phone, switched carriers, or updated an old phone. However, if you've done any of these items, you also know that the process can be very time-consuming.
We've put together some pro tips from our customer service team to help you save time and alleviate any possible frustration.
Here are some things you can do BEFORE even coming into the store:
First, ensure your current device is backed up so that all information can come over to your new phone when you get your new device. One of the best ways is to use cloud storage. Upload all your photos, documents, and everything else you want to be saved.

There are multiple ways to back up your phone before swapping it out for a new one.
Apple has an auto-backup feature in the iCloud Settings. You can also connect to a computer with iTunes. It will walk you through any updates your phone needs and back everything up to the computer, from which you can restore your settings and information to your new phone.
Android also has a backup and restore option in the settings sections of each phone. Be sure to take advantage of this and the Google Photos app, which will automatically save all your most important moments and more.

Know your passwords for email, Apple ID, etc. This will help you retain your contacts, apps, photos, or even the entire phone setup. Unfortunately, it takes time to go through a password recovery, which can be avoided with some help from you before coming into the store.
Make sure your phone is fully charged, as it may take some time to get the information switched.
Move your subscription accounts. Even once you've figured out how you can move your data from one phone to another, you're not quite ready to roll. Next, you have to think about the accounts you're signed into on your device. Because some services have limits on active devices, you'll have to deactivate or log out of certain accounts on your old phone before they'll function on your new one.
If you are porting (moving) a # from one carrier to another, you will need to:
Know the phone number you want to port.
Know your current carrier name, account # and customer name.
Know the billing zip code on your current cellular bill.
Know your pin # or passcode on the account.
Most of the time, you'll get to bring everything from your old phone to your new one. This includes contacts, photos, and text messages. But be aware that there is a risk, and some things could get mixed up in the transfer process. Not to mention, if you are switching to a new operating system (for example, going from an iPhone to Android), that risk increases because the two separate systems are not always compatible.
Finally, the big decision - what phone to get? If you are an iPhone user, it may just come down to price and/or promotions. Our current promotions are listed on our website at www.stratanetworks.com/deals. Be sure to check them out to get an idea of what you like before coming into the store.
You can also look at reviews and research devices you are interested in, then when you get to the store, our service reps can help you narrow down the choices to find the perfect phone for you.
With everything up and running on your new device, you can safely reset the old one – just wait a few days to make sure the switch has been successful. On iPhones, Apple recommends signing out of iCloud first, then heading to Settings, General, and Reset. On Android, you can reset your phone by going to Settings, System, and Reset.
By following these tips, we'll help get you in and out with a new phone as quickly as possible. If you have any questions before coming to the store, visit our online chat or call 435-622-5007. We look forward to helping you!
STRATA NETWORKS is the leading telecommunications provider in the Uintah Basin, providing advanced voice, broadband, television, and nationwide wireless services. The company is headquartered in Roosevelt, Utah, with a coverage area extending into a tri-state region, serving over 60,000 customers. STRATA celebrates over 60 years of technology expertise, exceptional customer relations, and a devout corporate social responsibility to its community. The company functions as a local cooperative, in which customers can also become member-owners of the company who may receive patronage dividends and participate in company voting processes. More information is available at www.stratanetworks.com.